Manhasset Music Stand Storage Cart (Large)
Holds up to 24 Symphony music stands and allows easy storage and removal of stands. Rugged and durable zinc-plated, welded steel construction. Maneuvres easily on all floor surfaces. Designed to hold Manhasset music stands, though other makes and models will fit too.
Dimensions: 42" high x 22" wide x 92" long.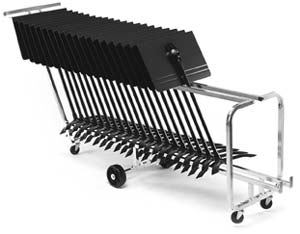 12 Stand Manhasset Storage Cart
Designed to hold 12 music stands, its overall length is less than 5ft. Constructed of welded steel, durable powder-coated finish, high density polyethylene rail liners and roller bearing wheels, this cart will last a long time! Ideal for Manhasset Music Stands, though other makes and models will also fit.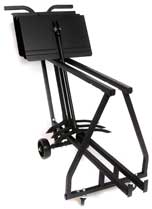 RAT PERFORMER STAND STORAGE TROLLEY
Performer Stand Trolley will accommodate 18 Performer Stands. Trolley measures 173cm x 45cm.